My day begins with a sweet text from my bf, "Good morning my TABACHINGCHING! i miss you! i love you and take care always.." aaaww... sweet! a good message to start a day... today, is a busy day for us because we'll be doing a general cleaning in our housebecause my mom will be arriving on friday from Dubai. she's been away for almost a year and a half... i really miss her and i can't wait to c her... kiss her... hug her... MUSHY?! well, its been forever since we've seen each other and i really can't help it...i'm starting to plan how to spend with her 28 days stay here.. for sure, we'll do our shop til you drop habit, have cold frappe in starbucks, and go to salons... a must is to go to tarlac and visit my lola's grave (my dad's mother.. my other lola told me before when my mother arrives, she would insist her to bring us all to bora. haha, nice idea NANAY! hope my lola's convincing powers will work.. enough of this... it just makes me excited...have to end this na, and start doing my stuffs na.. before i end this blog, i just wanna leave an inspiring quote... ciao!!! Take care of yourself. Don't wait for someone to take care of you. You light up your life. You drive yourself to your destination. No one completes you - except YOU.
All Contents Made by Deahgee. Powered by
Blogger
.

Welcome To My Blog!
Hey Its Me.. DEAH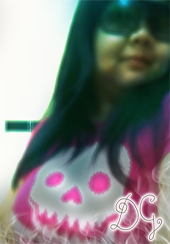 The name is
DEAH
. Pronounced as
De-Yah
not deh nor dih..
You might be able to see some swearing and bitching here and
there so that's a warning.. Not suitable for babies.. lol..

Enjoy and HATERS/SPAMMERS, STAY AWAY!!!!

\m/


Lemme Know U Exist

Visits!!! *Thanks*