cge... eto.. example... umorder ka sa isang fastfood ng food na kaya ka dun nagpunta kc yun ung habol mo sa kanila... they'll tell you "wala na po mam" .. since wla nang ibang mapuntahan nagdecide ka na to try otu their other dish.. tapos maya2 makikita mo sineserve nila ung gusto mo sana sa iba... na to think nauna kapa dumating or nagorder dun sa pinagservan nila nun....
kung nainis ka sa scenario, mas lalo ako kasi ako naka-experience diba... sobrang badtrip ko talaga jan sa redribbon branch ng sm centerpoint!!! di pa ata ako nakakain jan na wla akong nireklamo or inaway... i really really wanna try out their creamy pastas.. new dish yun sa menu nila, na kahit alam ko na i hate their service pumayag pa din ako na dun kami mag dinner nina papa. so this crew asked for our orders (bading na napakarte magsalita, kung napanood mo ung drama na MARs ni barbie sue and zai zai cya, kamukha nya ung kontrabida dun na psychotic) so sinabi ko muna ung akin, i first told them na i want the creamy lasagna... so sabi nya wla na daw... next sabi ko ung carbonara na lang... tnanong nya ulet, sabi meron pa daw for 2 servings nlng.. so i told them to give me one... then cnabi ko na ung orders nina papa.. then since wla ung choco majorlaine nila sa cake slice of the day (un ba tawag dun??) i asked kung pwede nlng kami magorder ng hindi kasama sa meal na slice nun.. so sabi nya wla na daw silang available na for slices... so ayun na binayaran ko na and nagantay ng pagkatagal-tagal as expected, before maiserve ung main dish..nauuna pa ung cake bago ung pinaka dish eh... tapos edi ayan na kain.. kwentuhan.. and everything na kami... then eto na, c ra bigla me cnabihan na "ate da, kala ko ba wla nang carbonara?? bakit may sineserve cla dalawa pang order?" namputa! nagpintig ung tenga ko... although gusto ko talaga mang-away (ulet) i told myself, wag na.. nasa tiyan ko na ung inorder ko... tapos tang-ina.. maya2 ung nasa harap namin... sinervan nila ng slice ng choco majorlaine!!!!!!!!!!!!!!!!!!!!!!!!! fuck talaga!!!! sumisigaw na talaga ako sa table namin... " ITONG REDRIBBON NA TO NA ATA ANG WORST NA NAPUNTAHAN KO. WLA BA KAYONG COMMENT SHEET??? IBABAGSAK KO LANG KAYO!!!!!!!!!!!!!" wala akong paki kung marinig at magtinginan ung mga tao... i just have to voice this out! shet cla diba... cnong di maasar... nagparinig tlaga ako ng nagparinig... natapos lang nang lumabas kami... tingin nga ng tingin ung mga crew...THe hell with THemMMM!!!!!!!!!! they've got the nerve!!! lalo na yung cashier and ung baklang mukhang psychotic na yun!!!!!!!! (no offense sa gays na friendships and readers ko kung meron man... ung crew lng tinutuloy ko) grrrrrrrrrrrrrrrrrr!!!! galit na galit tlaga ako.. kung di lang mukhang mabait ung manager nila and naaway ko na kc yun before (mana lang ako sa mom ko... heheh) nako... hay!!!!!
ayun.. nailabas ko din dito... grabe haba ng kwento ko noh... kaya watch out kayo pag kakain kayo dun, worst cla... di ko nilalahat ang mga red ribbon... cla lang yung ganun...
BIRTHDAY PLA NG BABY EGAN NAMIN NGAYON!!!!!!!!!!!!! 1 YEAR OLD NA CYA!!! HEHEHEEH... WE LOVE YAH! MWAH!!!!
All Contents Made by Deahgee. Powered by
Blogger
.

Welcome To My Blog!
Hey Its Me.. DEAH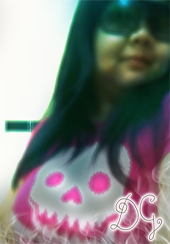 The name is
DEAH
. Pronounced as
De-Yah
not deh nor dih..
You might be able to see some swearing and bitching here and
there so that's a warning.. Not suitable for babies.. lol..

Enjoy and HATERS/SPAMMERS, STAY AWAY!!!!

\m/


Lemme Know U Exist

Visits!!! *Thanks*