LIFE'S ANATOMY: "i'm so hopeless

waaahhhh... this is too much!!!!!!!!!!!!!!!!

kinikilig pa din ako sa ISWAK!!!!!! bakit ganito ako... alam nyo ba na i spent my wholeday na nakatutok sa pc ko watching iswak thru youtube and reading summaries of the iSWaK sequel... grr... hopeless na to.. sobrang ka-adikan na.... sige na, just wanna blog my kakiligan!!!!!!!!!!!!!!!

JOE-ARIEL FANATIC HERE!!!!

BACK TO EPISODE 8... VAVUSH...."
All Contents Made by Deahgee. Powered by
Blogger
.

Welcome To My Blog!
Hey Its Me.. DEAH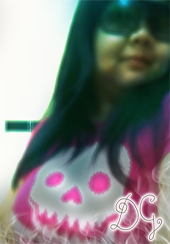 The name is
DEAH
. Pronounced as
De-Yah
not deh nor dih..
You might be able to see some swearing and bitching here and
there so that's a warning.. Not suitable for babies.. lol..

Enjoy and HATERS/SPAMMERS, STAY AWAY!!!!

\m/


Lemme Know U Exist

Visits!!! *Thanks*