Me and my dear BFF susana went for a day out.. or could also be considered a night out today. We headed for downtown.. dang i miss going there. its been what, more than 3 months or so... could not even remember how long.. I was like, cmon lets just stroll around, find something to splurge into like shop for infant stuffs and so and so.. since she is 2 or 3 months pregnant right now...

we went to spadina.. its like the China town of downtown where you can find all sorts of chinese things... or its better to say, vietnamese things... coz eventhough it may seem that the place is being flocked by Chinese ppl, but in reality there are more viets in that place than chinese.. better not explore that area.. lol! don't wanna get in trouble... hahhaah

so we saw this fruit stand and waa! we saw some LANSONEZ omg i was so excited coz its the 1st time to see that fruit here in Canada.. yeah i am not a frequent fruit-shopper so pardon the ignorance. We bargained it for $4 per lb though we were able to get it for that amount.. adding up the tax and all, we still ended up paying more than 5bucks.. sucks!! well CANADA = HIGH TAX so better not complain.. i will not get anything from it though... heheh

Then Susana's hubby called and asked us to stay first in a nearby mall which is full of.. again.. chinese merchandise and stores.. I was drawn to this stall who sells gift items and decided to go there to buy some cutie cutie stuffs which i really really dig (why do i have to say words twice?!!? lol) and also i remembered i have to buy gift for my ninong's daughter who will have her birthday tomorrow... so when i checked my bag for my wallet... tadaaa!!! its not there... and i realized my bad is open.. huwaaaaaa omg i freaked out.. imagine the embarrassment i'll get if ever i try to buy some stuffs then seeing my wallet is not there!! waa! so much for me being QUEEN OF MEMORY GAPS!!! lolz.. i was so bothered by this that my day is ruined.. all my energy drained like water in the sink... well instead of me treating my friend, it ended with her and her hubby paying for food.. we ate in this Vietnamese Resto, dang! the food is sooo filling! and cheap.. but still I am sooo embarrassed i tell you.. adding up the thought that my wallet might be stolen instead of me leaving it at home... waaa! The taste of the food in a way, helped me forgot the disaster that happened.. then we ended the day and they gave me a lift to my pad... when we arrived at my place, i rushed to my room and... THANK GOD! its just there.. near my shoe rack... i was screaming my lungs out of gladness! haha! and my dad freaked out.. lol! crazy indeed...

here are some photos from our spadina trip.. hehehe


and here are my photo trippings while in front of my pc.. waiting for someone to buzz me.. hehehe....
hehe..lolz... i am in the mood for pic spamming today.. hehe.. can't wait for the HUNAN VISIT OF ARJOE later... omg... i might be teary eyed if i see them again together.. its been so long! waaaaaaaaaaa....
*screams and faints are meant to be ignored by the reader.. gomenasai
ox
=) deah
----------------

All Contents Made by Deahgee. Powered by
Blogger
.

Welcome To My Blog!
Hey Its Me.. DEAH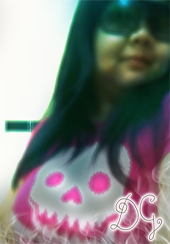 The name is
DEAH
. Pronounced as
De-Yah
not deh nor dih..
You might be able to see some swearing and bitching here and
there so that's a warning.. Not suitable for babies.. lol..

Enjoy and HATERS/SPAMMERS, STAY AWAY!!!!

\m/


Lemme Know U Exist

Visits!!! *Thanks*