hihi.. i strayed aways from arjoe.. well sort of except for that peep that i did to see this s*$(#*# arjoe fan who.. again.. won't just shut up and rant about her doubts and complaints about the recent news and stuffs!! akkkkk i don't wanna get into details to that for i am sick and tired of them.. like one of the poster there said, its like within 2-3 pages of that thread, there'll be someone who'll post there to whine and whine there... about how they think arjoe is like this and that..arg!!! kill me please!!!!!

anyways, back to the INTERESTING part of my post.. ahaah!! i bet i'll be the only one enjoying this.. hahah!!! ok, i've been jamming here with.. MYSELF.. plus the covers of GUITARTUTEE.COM <--- my favourite acoustic site.. and sang some tunes.. hihi. .and even did a cover with me doing the guitar and hihi.. singing... you might think its silly but hey! better stick out of my business! lolz... meanie me.. lolz, just try to give me this chance.. hope you'll not think the "SINGING TALENT" thing that i am gonna exhibit in the next few secs must just be hidden inside my grandmama's chest.. heheehhe.... here you go.. here's me singing:
TORETE by MOONSTAR 88 (using guitartutee's cover)




My cover (me playing guitar and singing) gomen for i am not focusing on my voice.. lolz, i haven't memorized the tabs of this song yet....




and... my favourite song... BREAKAWAY by KELLY CLARKSON




aish.. i dunno.. if you despise my voice or any comment.. just post up.. I am not a singer or sth. just sharing my talent (which some of you might want me to just keep it hidden..hahah)
see you... no work for me tomorrow!!! wahahaah! weeeheee
=) deah
----------------

All Contents Made by Deahgee. Powered by
Blogger
.

Welcome To My Blog!
Hey Its Me.. DEAH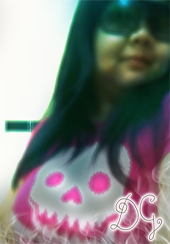 The name is
DEAH
. Pronounced as
De-Yah
not deh nor dih..
You might be able to see some swearing and bitching here and
there so that's a warning.. Not suitable for babies.. lol..

Enjoy and HATERS/SPAMMERS, STAY AWAY!!!!

\m/


Lemme Know U Exist

Visits!!! *Thanks*