yeah i've been wanting to watch that film since i am a majoe sophie kinsella lover though i haven't read her new book but i have it already.. waa! maybe i'll just buy it in brimley! lolz... anyways so how is me.. i just woke up.. i told may i'll just have a nap for i am so sleepy but instead i got caught up to a deep sleep. hihi... its 6am already.. dang! they said it'll snow again later.. waaa! after days of no-snow.. yeah ppl its back again.. hopefully i'll be our last for the season. anw.... right now i am in the mood of cutting the bei hou clips and upload it in YT for viewing.. hope may and gio will decide to translate that one... we still have 2 or 3 clips in line for subbing including the GOLDEN EAGLE interview of arjoe during their visit in changsa last week. IFS released hardsubbed version of ariel's TRUE LOVE 18 and i am downloading it.. want to watch that one for ages.. good thing they decided to do it even if its just a side project. Better that nothing right!!!

there are news floating in taiwan where in they are claiming ariel has been hospitalized for 8 days because of a brain surgery?!?!?!? how can you just me confined in a hospital for 8 days if you undergone a brain surgery?? how???? these tw press can't even make a simple research before giving out news regarding ppl in e-circle.. they know it'll stir up some talks especially Ariel is famous in TW. haiz.... these ppl are so nuts! i don't believe it. but i am also in a little way concerned coz its Ariel.. i love her sooooo much! hope she's ok or anything...

ok back to me... i dunno what's with me at work i kept on laughing,, lolz... maybe i am that bored. and also i kept teasing chris! haha! i am speculating, by the level of what i've been doing, in a matter of 1 hour if i won't stop i'll be punched in the face!! hahaha kidding.. he won't do that to me... lolz! he's my CHRISSY!!! bwahahaah! omg.. am laughing.. he'll definitely kill me if he reads any of these... STAY AWAY FROM MY BLOG CHRIS!! lolz....

i went home from work with my mom... she bought a lot of home stuffs that was - ermm on sale... one is not.. dang! $27 for a shower curtain??? i won't buy such!!! lolz, i bought a comforter set which cost $40 well its worth it. i am trying to invest on beddings coz this friend of mine told me that i should coz beddings stuffs are the last thing you see and feel before you sleep and the 1st thing you see or feel again.. after waking up.. so yeah! i think she got me convinced by that.. lolz... so later this day since i don't have anything to do except for my online routines... i am gonna have a room-cleaning day again... hehehe...

sooooo... yeah more or less those are the things that happened to me today.. returning to the thing about my title.. i regret selling off all my shopaholic books.. huhu! the only thing i had right now is the shopaholic and baby.. i promise not to give it away!!!!! over my dead body! lolz...

see you.. leaving you a clip from arjoe's duet last december 31, 2008 and this is a fanclip which exhibits how SWEET THEY ARE during the duet! omg...



happy watching! credits to tudou uploader.. no credits due to me...
see yah!!!!
=)
=) deah
----------------

All Contents Made by Deahgee. Powered by
Blogger
.

Welcome To My Blog!
Hey Its Me.. DEAH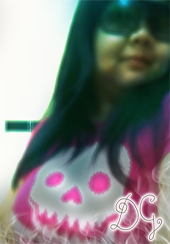 The name is
DEAH
. Pronounced as
De-Yah
not deh nor dih..
You might be able to see some swearing and bitching here and
there so that's a warning.. Not suitable for babies.. lol..

Enjoy and HATERS/SPAMMERS, STAY AWAY!!!!

\m/


Lemme Know U Exist

Visits!!! *Thanks*