I know.. dang! another blog from me.. Maria Edreah Bautista... hehe... i am just experimenting on this.. coz if you don't know, my other blog can't be customized for i am a stupid to update the theme sth.... waaaaaaaa!! anyways, so here it is.. i am so loving it! if only i can transfer my domain to this blog... huhu..

link: http://iamdgluvjc.blogspot.com

the whole day, all i did was fix up our things.. coz in two days, we'll be moving to our new house.. yay!!! and i also installed YM in this laptop coz.. i dunno, like not opening my messenger for days makes me feel like something is missing. and also i miss my brus.. my mom and i went to walmart.. yeah WALMART! Again!! when will i get tired of this store?? hha! we went there to buy some stuffs to be sent out to phils..coz we'll have or B-boxes picked up this afternoon.. i bought some small tees for my inaanak in vmapa.. the problem is, hehe.. i forgot his name.. all i can remember is the name of his father! dang it.. this memory gap is getting worse everyday... what else, well most of my time got wasted for watching HGTV which is now my official favourite channel.. lolz! talking about getting into real estate.. HUH!!! bwahahah


so yeah that's mostly what happened to my day.. nothing special... got scolded by my dad coz he thought like my stuffs will consume half of the new house.. i don't think so!!! ummm well maybe not half.. or close to half.. lol!!! what can i do!!! waaaaaaaaa time to sleep..


ciao ciao!!!!





=) deah
----------------

4/23/2009 01:15:00 AM | Tags: rants |  
All Contents Made by Deahgee. Powered by
Blogger
.

Welcome To My Blog!
Hey Its Me.. DEAH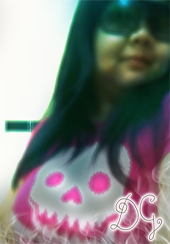 The name is
DEAH
. Pronounced as
De-Yah
not deh nor dih..
You might be able to see some swearing and bitching here and
there so that's a warning.. Not suitable for babies.. lol..

Enjoy and HATERS/SPAMMERS, STAY AWAY!!!!

\m/


Lemme Know U Exist

Visits!!! *Thanks*