long day... long night too... lol! i am supposed to be used to these one.. oh well, so what happened today.. after 3 days, i was able to get out of the house.. hehe.. i went to stc, oh before that pla, PPGs watched oh my gulay.. and gio loved it! i knew she would... its one of the best stories from bud brothers series from PHR.. hihi.. i miss wayne and betchay! lol... so continuing with my day out.. i told myself, i won't spend anything today.. but guess what? i spent more than a hundred again i think.. grr! bought the following:

old navy: sandals - $19
shirt: $6
bag: $8
olympic keychains: bought 2 $10 each
stuff toy: $7
and placed a $275 worth of necklace which i superrr love! inukshuk pendant studded with diamonds! love it!

darnit! i am soo broke now! huhu... i need to stop shopping or else i'll be so drowned with debt.. ofg! i still have to pay my site dues on the 14th... what the hell....

went to see my classmate in the bay today.. lol! tnx for the free chocolates! hehe...

chatted with loren and may... was able to find a way to solve my moderator issues.. got tangled up with a lot of things, trying to multitask but ended up not finishing anything.. i feel really bad everytime this shit happens..

vacation mode will soon be over and i haven't done any of my HW.. i'll be so screwed! i might try to do it on friday esp. the orals.. i am not sure how will i do it.. oh darn! i still have a presentation for microcomputer! wasai!!

i need to stop thinking abt this or else, i won't be able to sleep...

status now: drugged of sleepiness..


xoxo


deah

ps. tnx to cathy for giving me the link for the cutie emoticon.. i'll use it tomorrow...


oh what the fuck! i almost forgot the most important thing that happened today...

i saw the ECLIPSE TRAILER! best 10 secs of my life!!! thanks to sis BK and yes, let's share my bed and mattress for the purpose of catching us from fainting! bwahahahahaha


watch it!!





"i know the consequences of the choice you're making..... i'm gonna fight for you, until your heart stops beating"


i seriously need some twilight dose before sleeping... ECLIPSE AUDIOBOOK! woot!!!




=) deah
----------------

All Contents Made by Deahgee. Powered by
Blogger
.

Welcome To My Blog!
Hey Its Me.. DEAH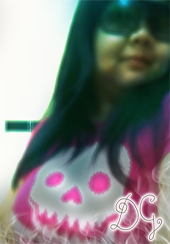 The name is
DEAH
. Pronounced as
De-Yah
not deh nor dih..
You might be able to see some swearing and bitching here and
there so that's a warning.. Not suitable for babies.. lol..

Enjoy and HATERS/SPAMMERS, STAY AWAY!!!!

\m/


Lemme Know U Exist

Visits!!! *Thanks*