posted: "ouch" the other day in plurk.. people are curious but i can't seem to admit the meaning of that posts...


i am not sure if its appropriate to post it here for i don't want to give the wrong idea to some certain people... but if you read one of my posts in this blog, what hurts the most is the title (ooops titles are not showing up in this theme btw.. but you'll surely know its the post with the content of it) then you can find the reason there... it sucks! sigh..... oh well, its supposed to hurt from the start anyways, what do i expect??? ok enough is enough....

watched phr by rafael and paw. i love it! the only thing i don't like is the major rollercoaster changes in paw's character, like at first she's this sensible and fierce girl then she just suddenly became naive and vulnerable.. then back there again... and the inclusion of the hector dela rosa's story doesn't give justice why it should exist.. i mean, they can leave it out and same thing will happen.. accdg to may, if you read the book then you'll see its importance.. oh well, book version is always the better choice..so i decided to include some phr books on my list of things to import from phil to here.. heheh! believe me, my list is already miles long and i am still not done adding things.. hahaah silly...

posted some of my doggie pics in facebook from friendster.. it made me cry! huhuuhuhuh esp. this one..




its my favourite pic of my lil brother bitoy.. ok now i am crying again... i feel so guilty towards this fellow.. its like we abandoned him so much.. its too unfair to him that he died like that... i will always have him in my heart.. best pet i've had... he's the best!!! i love you bitoy!! now i can't stop crying........ i miss him damn much!!!!

and.. how can i continue now... ok.. i'll try.. marlon is in china right now.. finally... hope he'll be fine there.. goodluck to him.. i love him... he's my life.. hehe..

ok its harder than i thought...


xoxo *with tears*


deah



=) deah
----------------

All Contents Made by Deahgee. Powered by
Blogger
.

Welcome To My Blog!
Hey Its Me.. DEAH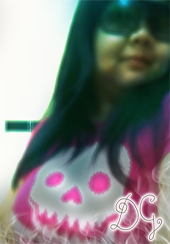 The name is
DEAH
. Pronounced as
De-Yah
not deh nor dih..
You might be able to see some swearing and bitching here and
there so that's a warning.. Not suitable for babies.. lol..

Enjoy and HATERS/SPAMMERS, STAY AWAY!!!!

\m/


Lemme Know U Exist

Visits!!! *Thanks*