Its tuesday and yey cheap movie tickets so we decided to watch i miss u like crazy... At school we wrote a paragraph summary of some article. I received my dreaded essay and i got good remarks from my teacher!! 1st time to be complimented to have organized in my essay structure.. I was like, whoa!! U friggin kidding me right.. Hehe.. Will post my reaction later..
Xoxo
Posted from Blogium for iPhone
All Contents Made by Deahgee. Powered by
Blogger
.

Welcome To My Blog!
Hey Its Me.. DEAH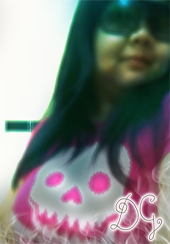 The name is
DEAH
. Pronounced as
De-Yah
not deh nor dih..
You might be able to see some swearing and bitching here and
there so that's a warning.. Not suitable for babies.. lol..

Enjoy and HATERS/SPAMMERS, STAY AWAY!!!!

\m/


Lemme Know U Exist

Visits!!! *Thanks*