hmm since most of the time i can't think of a title for my posts here, i think nightly blurbs with part number would suffice.. hehe...

- had a very long bath just before midnight, tried my sweet pea bath and body works body scrub and oooh lala! i love it! i can't stop sniffing my arms! lol.. i might sniff my arms entirely if i won't stop soon tho. lolz! i recommend that scent and the white citrus too!

- if you love twilight and you wanna read my take on things that circles it, try to read my twilight blog http://twilight-life.onsugar.com/ or perhaps just check my twitter page coz that's where i retweet or post some of the feeds that i get regarding the saga. i just posted new eclipse still images from summit, and changed the theme to coz, for some reasons.. when i posted something a while ago, the previous theme became so garbled.. weird coz i just posted something there maybe yesterday or 2 days ago and its not like that at all... but i love my new theme.. earthly.. luv it!

- tomorrow's my tita's funeral.. time's so fast. i will surely miss her!! omg, i should not cry again. no i won't.. hehe.. i love you tita aning!!!!

- almond kept on asking me to sign up with tumbler.. but i asked him to give me insights on why would i do so, like what's special with tumbler anyways.. lol! i already got like 4-5 blogs all in all and i don't intend to add more to my list.. maintaining this blog already takes a lot of effort and i might go insane if i add more..

- i friggin need to study for my exams tomorrow but guess what? i won't.. simple as that.. and i don't need to give a reason on why i prefer not to.. i just don't like it.. period! maybe i'll read it tomorrow.. hehe

- the bree book was not yet published until june 5th but yet its getting to the top of the bestseller's list just through the preorders made since amazon and barnes and noble made it available. omg! that's quite sick! haha! i would buy the book for sure, coz it will also benefit some charity.. so its worth it.

- last but not the least.. i'll end it with this quote from @ihatequotes twitter.. and i swear, i believe this esp.............. NO COMMENT!! bwahahah

The worst thing a guy can do is making a girl fall for him when he has no intention of catching her.
this is friggin true and whatever men can react to this but many men do this and they are experts without knowing it! i don't give the crap that they don't intend to do so coz, i swear they do!!!!! hahah! (sounding like a men hater.. but i am not, its just the deed that i don't like)
so hopefully someone enjoyed reading my blurbs part 1 and would care to give me a shoutout on my shoutbox at the left side of this page.. hahah
xoxo - dg
=) deah
----------------

3/31/2010 01:07:00 AM | Tags: blurb1 |  
All Contents Made by Deahgee. Powered by
Blogger
.

Welcome To My Blog!
Hey Its Me.. DEAH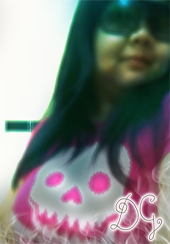 The name is
DEAH
. Pronounced as
De-Yah
not deh nor dih..
You might be able to see some swearing and bitching here and
there so that's a warning.. Not suitable for babies.. lol..

Enjoy and HATERS/SPAMMERS, STAY AWAY!!!!

\m/


Lemme Know U Exist

Visits!!! *Thanks*