Some pics i captured using my webby cam:

me and stewy hanging out at around 3:30 a.m.

me and my twilight graphic novel!!! i'll read it after this post.. hehe..
stewy taking over the camera.. not camshy anymore! lolsss
yellow phone with yellow shades.. lol! can't i be that horrible? wearing shades thinking its 4 in the morning! bwahaha!
and i am signing off to continue reading my graphic novel which i just read in a feed that it will belong to NY bestseller most likely after having sold more than 600k copies on America alone... over the weekend! crazy!! what can we say (twilight fans) we are a force to be reckoned! hahahah!
zzzZZZzzz
dg
=) deah
----------------

All Contents Made by Deahgee. Powered by
Blogger
.

Welcome To My Blog!
Hey Its Me.. DEAH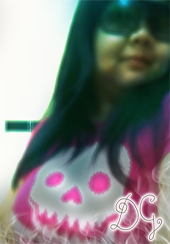 The name is
DEAH
. Pronounced as
De-Yah
not deh nor dih..
You might be able to see some swearing and bitching here and
there so that's a warning.. Not suitable for babies.. lol..

Enjoy and HATERS/SPAMMERS, STAY AWAY!!!!

\m/


Lemme Know U Exist

Visits!!! *Thanks*