what am i doing?? - eating my great value cheese puffs


fixing all these mess..............
typing on my blog... looking as messy as my room
and listening to twilight audiobook.. hihi.. on the mood for twilight right now that its only months til the next installment which is ECLIPSE.. i lurveeee that book... hehe...
maybe hours ago, i watched binibining pilipinas coronation night from a recorded video by my dad from pvr. omgee! i enjoyed the whole thing, not in a good way though.. lolz! i enjoyed criticizing every single detail that i noticed on the whole show.. here are some:
- they got the worst hosts.... dingdong dantes looking like he's still hosting FAMILY FEUD , add his uber-shiny suit.. and the friggin funny emerald ribbon! omg! whoever dresses him must be fired at once!
- carla abellana's awkward moments all night... oh,, she compliments dingdong's mermaid looking suit.. bwahhahaha had such fun with them...
- the whole show is like watching the now defunct SOP.. no wonder its defunct now... one word.. BORING!!!
- wth was that basketball player doing there and judging the contestants????? tell me... justify!!
- all the contestant's gowns we're not that appropriate for that glam event. I bet, the other stars' gowns were better than what the contestants are wearing... i only saw maybe 2 -3 acceptable dresses..
- the whole pageant was so rushed..
- the only thing worth watching is how cute arnel pineda looked like while serenading the ladies (he's so tiny) but his voice is as powerful as always... and the violinists.. i love their rendition of the folk music done in a classical way... aww..
- and last but not the least.... the answers of the contestants.. i almost found myself covering my face because i felt really embarrassed with some of the answers..
you feel i am too critical? well i am.. why don't i look at myself on those contestants shoes.. i won't coz i won't join something i know i won't do good at.. or let's say, i have no K (karapatan) so since those ladies thought they can do it then they should prepare and bring it! if they can't take the pressures from the local level, then what would they do when they're already on the international level? and another thing, who would be motivated to join the competition when you can see that the prizes were not worth it. the grand prize would only get 20k cash?? omgee.. might as well go and win something at eat bulaga.. you'll get more...
screeeech.. stop now... anyways, i am enjoying the audiobook now...
"how long have you been seventeen? .... A WHILE!! " hahaha... i could remember how my fantasy hubby (rob pattinson) delivered those lines from the movie... *sigh* he made edward so friggin gorgeous and yummy and lovable and endearing.. and dreamy.. and.................................................................................
zzzz
xoxo
=) deah
----------------

All Contents Made by Deahgee. Powered by
Blogger
.

Welcome To My Blog!
Hey Its Me.. DEAH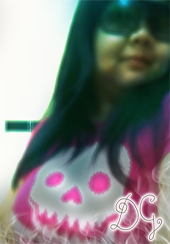 The name is
DEAH
. Pronounced as
De-Yah
not deh nor dih..
You might be able to see some swearing and bitching here and
there so that's a warning.. Not suitable for babies.. lol..

Enjoy and HATERS/SPAMMERS, STAY AWAY!!!!

\m/


Lemme Know U Exist

Visits!!! *Thanks*