here are the things i splurged on when i went to winners last thursday afternoon with my mom... oh and by the way, i missed blogging! i am not sure what's making me feel lazy towards posting up here. Sometimes i would tell to myself, ok go and blog later and let it all out, then i would totally forget i said those words.. sigh! is this a sign of getting old?! FUUUUUUUUUUUUUUUUUUUUUUUUUUUUUUU nooooo please! lmao


both sandals cost below 30 bucks! i love them both!!!
and.. my addiction:
havieeees!!! woot! hehehe... i love winners coz they sell $25 havaianas half of its price!!!
actually that's not all, i went and bought lots of books from value village.. i was actually looking fo nicholas sparks' novels and i found 2 of them.. one is dear john and the other one, i completely forgot the title.. i have to check it out later.. =)
well, we just had a trip in Ottawa, Quebec and Montreal.. there's a lot of ups and downs during our trip but overall, its was so much fun.. being with my family and friends. Funny thing that i will always remember from this trip is how me and my dad clash on everything!! haha! i love contradicting him... its fun fun fun!!! and i don't care if he always snapped me out or tells me to shut up everytime as long as i was able to speak out my mind on him coz sometimes he's pretty pretty annoying! another thing, i'll never ever make another itinerary for a trip that my dad would be included. Swear!!!!!!!!!!!!!!!!!!!!!!!!!!!!!!!!!!!!!!!!!!!!!!!!!!!!!!!
ok i'll shut myself up na.. lmao! i even ask myself to STFU! what's wrong with me... hahahahhaha!!!!
fuuuuuuuuuuuuuuuuuuuuu
=) deah ---------------
-
All Contents Made by Deahgee. Powered by
Blogger
.

Welcome To My Blog!
Hey Its Me.. DEAH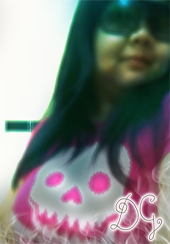 The name is
DEAH
. Pronounced as
De-Yah
not deh nor dih..
You might be able to see some swearing and bitching here and
there so that's a warning.. Not suitable for babies.. lol..

Enjoy and HATERS/SPAMMERS, STAY AWAY!!!!

\m/


Lemme Know U Exist

Visits!!! *Thanks*