In my 3 years stay here in toronto, i thibk tonight is the 2nd time i've experienced this time of fogginess(?!?!) its been raining cats and dogs here in toronto today til night time and i am quite glad coz it forced people to stay at home and stay away from my workplace! Hehe.. Dress code?? Not in my dictionary! Haha i wore leggings tonight at work.. Tho my manager caught me wearing it, right after she left i immediately removed the friggin pants! Hehe bait right!?
Funny moments today:
- being caught by my manager wearing tights but i said i was on my way to change to the proper one.. Ended me having a break overtime.. Lol!
- this McDonald's crew was so dumb to not know what mustard is and terming it as "the yellow stuff" lmao! Man that was a cracker!! Major fail to whoecer hired this person.. Ronald mcdonald would hunt you down for sure! Hahah
- dumb customers at work.. Oh well this was like something that i should be so used to by now but.. I am not sure if i will as long as i am working there in walmart..
- some guy at work led me awkward and lost of words when after seeing me clocked in and walked past him to go to my post asked me out of the blue.. "umm maria, do you know what's our dress code or something.. Blah blah" i was caught by that and in my thoughts.. WHAT THE FUCK IS WRONG WITH U PERSON!!! haha good thing he's pretty nice to me always that i just let that incident pass by me not fuckin it on him.. Lol! But jeez.. Seriously, he got some issues..
And piss-y thing today.... I can't find a decent app for blogger positing which will allow me to post multiple pics coz as much as i love this blogium account.. The 1-image per post thing is the biggest downside of this app.. I mean PAID APP! hope devs would hear me and do something abt it..
Ok so i still want to post another pic so i'll try to do some magic/tricks in order for me to fulfill what i wanted to happen.. Hehe....
Ciaonesssssss!! 3 dayszzzzzzzzzzz
Deah:p
Posted from Blogium for iPhone
All Contents Made by Deahgee. Powered by
Blogger
.

Welcome To My Blog!
Hey Its Me.. DEAH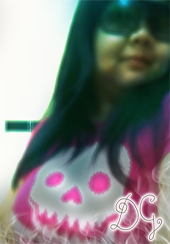 The name is
DEAH
. Pronounced as
De-Yah
not deh nor dih..
You might be able to see some swearing and bitching here and
there so that's a warning.. Not suitable for babies.. lol..

Enjoy and HATERS/SPAMMERS, STAY AWAY!!!!

\m/


Lemme Know U Exist

Visits!!! *Thanks*