At last, christmas tree was up! Lol! Tnx to my mom and abbie, we're able to fix and find it all.. Lol! We've been through a lot of troubles just to be able to install that thing.. Some picsies :p Pre...

Post... Taken from my mom's iphone 4 (danggg)
Oh and before all of these... I was able to accomplish almost everything from my to do list and also, did some xmas shopping! Woot! Guy gifts are the only ones left for me to dig tomorrow.. Goodluck to us on orfus. Ciaooo two posts in a row. Yay Dg
All Contents Made by Deahgee. Powered by
Blogger
.

Welcome To My Blog!
Hey Its Me.. DEAH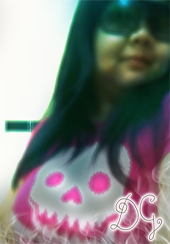 The name is
DEAH
. Pronounced as
De-Yah
not deh nor dih..
You might be able to see some swearing and bitching here and
there so that's a warning.. Not suitable for babies.. lol..

Enjoy and HATERS/SPAMMERS, STAY AWAY!!!!

\m/


Lemme Know U Exist

Visits!!! *Thanks*