I am kinda bored in the 1st few minutes of this class and i though of drawing something in front of me. Turna out its tjis sign that says smoking is not allowed in this room..... Thank God for that.. Pardon my imperfect circle shape.. I tried my best to make it as perfect as i can but too bad i am not made to be a human protractor. So yeah, its my break right now and i am thinking on what ways can this nonsense drawing to be of-use in my boring life. And yay! I decided to just post it up in my blog.....
How i hope i could stuck this sign anywhere i go so i could a belcher-free air around me. I have nothing against smokers, i just dislike that i was among thos '"few" who're more prone to sickness than those who actually generate that toxic air. I remember my bestfriend tellingme before to just smoke instead coz in fact, its lesser evil than me unhaling all their smoke. But proudly, that's not enough reason for me to do it. I just cant do it for strange reasons that, the first time i tried it, i barfed and got sick soooo bad. I'd rather feel that because of liquor than because of nicotine intake. Anyways, its just me... I know many ppl feel the same way as me.. There might be some unlucky ppl like me, who's surrrounded with smokers.. At least i am lucky to have best bunch of friends... ;)
So class is starting in a minute.. Point stated i guess...
Laters cywerrrld!!
:) deah
Posted from Blogium for iPhone
All Contents Made by Deahgee. Powered by
Blogger
.

Welcome To My Blog!
Hey Its Me.. DEAH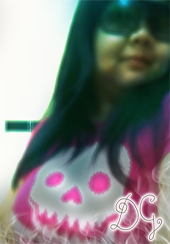 The name is
DEAH
. Pronounced as
De-Yah
not deh nor dih..
You might be able to see some swearing and bitching here and
there so that's a warning.. Not suitable for babies.. lol..

Enjoy and HATERS/SPAMMERS, STAY AWAY!!!!

\m/


Lemme Know U Exist

Visits!!! *Thanks*