beads alert!!


beads beads... once you start, tis difficult to stop.. lol
2 layered necklace
chandelier earrings
made 5 pcs of accessories tonight.. 2 bracelets, 1 pair of chandelier earrings, and 2 necklaces.. i only get to snap shots of 2 of them.. took me 4 hours tho.. hmm too slow! anyways, i am targeting to make 15 pcs by the end of the week,, crossing my fingers to reach my goal.. =) time to sleep.. its almost 6am. wow!!
=) deah
----------------
All Contents Made by Deahgee. Powered by
Blogger
.

Welcome To My Blog!
Hey Its Me.. DEAH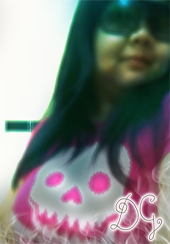 The name is
DEAH
. Pronounced as
De-Yah
not deh nor dih..
You might be able to see some swearing and bitching here and
there so that's a warning.. Not suitable for babies.. lol..

Enjoy and HATERS/SPAMMERS, STAY AWAY!!!!

\m/


Lemme Know U Exist

Visits!!! *Thanks*