Its so early today, and i was able to finish a lot of things.. Well, basically i havent slept yet.. Lol!! I wasnt able to reach my target number of accessories.. Too bad, i was able to make 12 pieces only instead of 15, well i guess its not bad.. ;) and did my nails too!! Blame my laptop for being so turtle slow, got bored waiting so i decided to do my nails right now instead of me doing it later this day... Here's the final product!! Lurvvvvv it!! Polish used?? Nyx hot blue Black and glitter gold INK nail art polish

My nails!!
Oh and i'll be posting the jack astor pics this afternoon.. After work last saturday, i just ate dinner and when i saw my bed, i just threw myself on it and i was dead asleep in a matter of seconds.. Lol! That's how tired i am.. Add to that, i just had a horrible horrible day yesterday, i'll rant on it tomorrow, i still have to do something for a friend.. Chaooo!! Ty ty for reading.. That is, if there's any.. Heheh ;) dg
All Contents Made by Deahgee. Powered by
Blogger
.

Welcome To My Blog!
Hey Its Me.. DEAH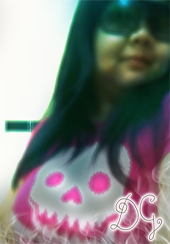 The name is
DEAH
. Pronounced as
De-Yah
not deh nor dih..
You might be able to see some swearing and bitching here and
there so that's a warning.. Not suitable for babies.. lol..

Enjoy and HATERS/SPAMMERS, STAY AWAY!!!!

\m/


Lemme Know U Exist

Visits!!! *Thanks*