i've been missing ann for centuries so when she asked me on when am i available to go out, i immediately told her i am free this wednesday.. this morning, i received a text from my bff #1, Susana, that she also wants to hang out today *i feel very loved today.. lol <3 you friendsss* so i asked her to just go to pacific mall too and to my delight, my inaanak *goddaughter* came with her... Kaye called up too and told me she still doesn't want to go home so, she also ended up going to our destination too.. 1st things first.. the balls! We ate like 6 tripes and one stick of fishballs. yum!!!! i love it.. i missed that routine the last time we went there (me, camille, et. al.) coz we spent 3 hours inside the salon (resulting to my corn-coloured hairdo). We have a little playmate with us, and to my surprise, it seems that she's up to shopping with the girls too. she didn't even throw tantrums the whole time.. i love my little erica.. =) i only get to buy some nail polishes which is my new or old, i should say... addiction right now..

the day could've been perfect if i am not that stupid enough to leave my keys at home.. to make matters worst, when ann dropped me off at my place, no one's home! grr.. so i had to make calls and asked ann to drop me off to my family friend's place coz my bro and abbie is there. i felt really embarrassed to ask ann but i don't wanna freeze outside my place since, i am also that stupid to not wear any jacket for the sake of friggin fashion.. *yeah fashion hurts* so yeah.. that's the wrap up of whatever happened today.. and here are the pics!! weee i love how erica pouted her lips! lol! so funny...

some pics came from ann's camera.. oh and btw, after our pmall trip, me, ann and kaye went to timmy's for coffee but since i am not a java fan, i decided to get their new fruit smoothie.. its good but its a bad decision to add yogurt in it.. my stomach ended up going grumbles later.. ughh why why why!!!



stripes day..
we're honouring all the zebras.. pls don't slay them =) *pumatok nnaman ang
pagiging animal-lover lol*
yeah, they are in-love..
hot mommah, susie.
me and my fruit smoothie from timmies
binakuran namin yung merry-go-round lol!
this is my favourite pic.. aww man, isn't she so cute!!
how can her mom call her baby bubot! tsk tsk.. lol
bata.. isip bata! haha <3 you
after finishing our balls!
pole kissin.
wehh shyness daww
the reason she picked mango slush from other flavours:
it is coloured yellow.. tsk! heheh
mother-daughter
aww the eyes.. pwede ko bang sabihing, mana ke ninang?? lol
she's trying to imitate me by taking pics of my using my camera necklace. lol!
she's so cuteeeee
and the famous POUT!!! bwahahaah
erica and tita K's blackberry
awkward smilee.. lol
pilit na smile
my strawberry-banana smoothie.. no yogurt next time
regular coffee double double..
ihip..
why sad??? i know why... i might share if you will insist. lmao
oops ang blue na lola showing up. hehe
hahaha!!!
pretty with her amethyst contacts *me inggit much!*
coach love <3
and its TIM HORT'N
<3 <3 dg
=) deah
----------------
All Contents Made by Deahgee. Powered by
Blogger
.

Welcome To My Blog!
Hey Its Me.. DEAH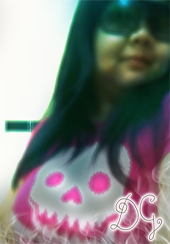 The name is
DEAH
. Pronounced as
De-Yah
not deh nor dih..
You might be able to see some swearing and bitching here and
there so that's a warning.. Not suitable for babies.. lol..

Enjoy and HATERS/SPAMMERS, STAY AWAY!!!!

\m/


Lemme Know U Exist

Visits!!! *Thanks*