new look for blogger. i can't say that i am liking it or hating it coz this would be the first post of mine while using the new platform. all i say for now is.. not bad. =p
i want to find a way for me to automatically post my instagram photos here. but it was like looking on a haystack of nonsense. nothing fits the exact thing that i wanted to do. maybe i am using rubbish search words. so hard!! anywhoooo, i still have the whole day to look for it. planning to do some of my uber-old-plan-of-making-my-room-a-bit-of-a-room task or tasks i should say (lol) at least i was able to find some time to post something here in my blog. in fairness, this is my third (i guess) blog post for this month *cheers* and in a few days, we'll be saying sayonara to april and ni hao to may .. time flies fast indeed! i am nearing the start of my wedding countdown (planning to start it a year before the wedding itself) hope before that countdown starts, i would be able to achieve some of the minute things that needs to be achieved.
before i go and do my day makeup (i just finished bath and body buffing is the best! i feel so refreshed) i just wanted to post a question that's been bugging me since yesterday after that reading that major fail reminder post from work. its just murdering the english language man!
is it bad to criticize a badly written post? is it too hard to have something proofread first before posting something in a professional-based environment where people like myself can be sensitive with things like past tense or future past participle?? *lol! exaggerated much* ?!?!?! is it bad?!?!?! *grammar police wang wang*
i am not saying i am uber good with my grammar and what not, but if you are posting it and it would be noted as something posted by MANAGEMENT then you better make it right or else, you'll reflect the whole team of professionals.
anyways whatever, don't go over criticizing my capitalizing abilities or my overusing of punctuation marks.. HONEY! this is an informal prose and i didn't force you to spend fucking minutes of your time in reading this.. so better fuck off and die! *angry much*
ok i never intended to make an uber long posts *with a lot of hatred* so i better stop this and go on with my wonderful world of makeup.
chao
=) deah
All Contents Made by Deahgee. Powered by
Blogger
.

Welcome To My Blog!
Hey Its Me.. DEAH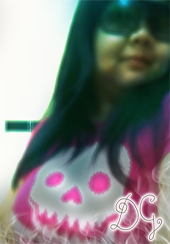 The name is
DEAH
. Pronounced as
De-Yah
not deh nor dih..
You might be able to see some swearing and bitching here and
there so that's a warning.. Not suitable for babies.. lol..

Enjoy and HATERS/SPAMMERS, STAY AWAY!!!!

\m/


Lemme Know U Exist

Visits!!! *Thanks*