While i was working in cosmetics section this afternoon, I tried looking for a purple-ish shade of lipstick Just because it's one of the shade that is still lacking in my collection. So I found this cover girl lipstick that has a name divine divine and I thought it's the perfect shade of purple that suits me.
So the shopaholic in me said that I need that lipstick the right now. There goes me buying it at once after my work. I was so excited to use the lipstick so I decided to make a look using some of my mac makeup. I decided to make smoky eye look which I am sure is suitable for night outs. I haven't done this for the longest time The result is not bad. I actually love it! You'll see the products that I used for the look below and hopefully you'll like it as much as I do. Pardon me if I kinda went overboard with the pictures, I am just loving the look that I did. Thanks for stopping by my blog and hope you found something interesting in your stay.

Cheers!


the CULPRIT! *Covergirl's Divine Divine 330*




the BEFORE
Face Makeup and yes i've used my my FIT ME 225 foundation for
this makeup session.
MAC baked blush
*label all erased so i am not sure about the name of this*

NC42 MAC concealer

Estee Lauder's Bronze Goddess bronzer




Highlighter




main eye makeup and brow bone highlights
*MAC Eyeshadows*




Dark Edge by MAC
*for some reasons, i can't seem to rotate this image =( *|




MAC's Carbon *again same problem*




MAC's Next to Nothing from my quad palette




after foundation and doing my eyes
my favourite cream liner =)




limited edition lash blast




Up close and personal with my Eye Makeup




This is LOLerss moment..
Fake process, as you can see my brush is still clean and new.. lol!




lippies galore!




used this for my cupid's bow




Ze Meee AFTER




edited using photo treats app for iphone
=) deahgeee
All Contents Made by Deahgee. Powered by
Blogger
.

Welcome To My Blog!
Hey Its Me.. DEAH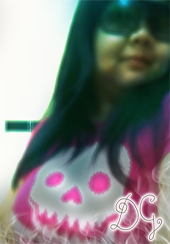 The name is
DEAH
. Pronounced as
De-Yah
not deh nor dih..
You might be able to see some swearing and bitching here and
there so that's a warning.. Not suitable for babies.. lol..

Enjoy and HATERS/SPAMMERS, STAY AWAY!!!!

\m/


Lemme Know U Exist

Visits!!! *Thanks*