lemme start with v. 2 of this nightly blurb coz i am not sure with the number of nightly blurbs that i've done from the past...
i know i know, i look scaryyyy! believe me, when my webcam popped out i was taken aback from what i saw! lolzz!! i haven't pampered myself for the longest time so i decided to do it tonight (1:16 am) coz i know i won't have another chance like this plus i guess fate was also telling me to do it coz i suddenly saw my face masks somewhere in my room (if you know me well, you would know that me and my room have this love and hate relationship)
so lemme start..
surprised to woke up at 1pm today! one of my longest sleep eversince i started working @ cedarbrae wm. yay! feels good!
helped my folks to do a little bit of cleaning on our backyard... i have only a number of things i hate about fall and one of those few are the scattered leaves coz its my task to rake them. lucky today my dad asked me to just clear up the leaves near our door coz he doesn't like the fact that we don't care if we're dragging the leaves with us whenever we enter our house from somewhere.. lol!! him and his OC sydrome..
wait.. lemme wash off this mud outta mah faceeeee!!
weee ok it was removed now... feels good!!!
so where did i left off?!!?!
my ninong and family *godfather* paid us a visit! nice to see them especially the kiddos =)
well, still cleaning my room.. i will sometimes stop and then go and plan my budget for my pay this friday.. everytime i think about my bills, i would feel super stressed!!! *who doesn't.. maybe those rich kids out there.. lucky bastards*
went to church and had my divine intervention for my soul.. it is needed badly.
continued cleaning my room.. fixed my makeups and by the way, i did a sacrifice giveaway of makeups just to make some room for my new ones. huhu.. i swear, its not easy to let go those babies.. =(
also got rid of some of my old perfumes and creams.. seriously, what has gotten into me today!??!!?!??!
hmmm and moved this lappie from my computer-table-turned-vanity-counter to this small table.. its actually a good move coz if not, prolly i'll be making this blog post using my iphone or ipad again and won't be able to make that banner down there appear =) i forgot the person who did this banner for me but i am sure its from my ebay phils community.. tnx to you *whoever and wherever you are*
what else................... i guess that's it.. oh and i have to be at work at 8am but i am still up at this time.. what's new though
so that's it.. weird photos of the day eh! hahha! i want to post up this photo of me after attending mass. i am still bummed that i haven't found an app or whatever which will allow me to directly post pics from instagram or tumblr to here.. it would be a lot easier for me instead of me grabbing and posting again.. *life of a lazy bum*
goodnight y'all and hope you had a very good weekend like me. New week is starting and hopefully within this week, i can start posting on my other blog regarding all the sales postings that i get from my email and stuff.. just watch out. it'll surely come soon! i am excited actually but i have to plan it further coz i want to incorporate that to my everyday life... i don't want to slack off and just post whenever i want to, just like the case of this blog. heheheheh... and i am looking forward to make a good use of that blog as well..
heart you! whoever you are who gave some time to stop by and read my blog up to this point. heheheh...

=) deah
----------------
All Contents Made by Deahgee. Powered by
Blogger
.

Welcome To My Blog!
Hey Its Me.. DEAH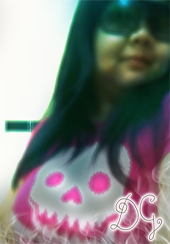 The name is
DEAH
. Pronounced as
De-Yah
not deh nor dih..
You might be able to see some swearing and bitching here and
there so that's a warning.. Not suitable for babies.. lol..

Enjoy and HATERS/SPAMMERS, STAY AWAY!!!!

\m/


Lemme Know U Exist

Visits!!! *Thanks*