Wow to my title! haha! I seriously don't know how to give this post a title so please ignore that but if you've read my blog before then you know this nightly blurbs would be full of random rants about my day.
there's a time today that i actually told myself that i am one of the most unluckiest girl in this planet. I just felt like luck repels me always like.. ALWAYS! may it be about the bus leaving me twice in a day, having the worst day if not everyday but two or three times a week.. or whatever.. regarding my work too in so many ways.. its like i seriously have to work so fucking hard just to have it my way or to get some luck. I might just be looking on the negative side of things today coz its been a rough day but i am getting alarmed coz its beginning to happen more often than ever. sighs.. i don't know what's with me but whatever.. I am not in that happy place in my life right now and the only thing that makes me a bit better right now is my eagerness to go home, feel the comforts of my bed and blog! not in this blog though but on my other blog. I wish I could get some luck with this thing that I am working on. I just need that in my life right now.. just a bit. I am not asking for too much right?!
I went shopping at old navy and urban behaviour today and i wanna take this opportunity to welcome me back to the arms of scarborough town centre. if it has arms i would prolly get the biggest hug having me back! lmao!! i think more than 3 weeks of no show?! lol! well that's the best part of my day i guess, being treated by my mom and dad for a meal after that not-so-satisfying noodles that I had for lunch although thank God for the food but as a very insatiable being as I am, that is like below the sub-line of my satisfaction pyramid (huh) see i am making up this things now.. these thingies *becoming my favourite word even in a professional place such as my workplace.. yeah yeah*
happy with the tops i got from both stores. old navy got 5 bucks graphic shirts, i got 4 of them, one partially paid by my mom *tnx mama* and 2 tops from UB which is worth $10 each. Out of all the items UB have to offer for their humongous sale for this week, I only got two pieces. Not that the sale sucks but I can't seem to have the patience to go around and check out every thing to look for something really nice although I can totally and honestly tell you that i am soo loving the tops that I got plus add up the huge line for checkouts and the clutter.. too much for my day.. hopefully i can get the chance to go back and score some $3 men's tees. I love them coz they are those humor t-shirts that's getting a lot of hype lately.. and how can u go wrong with 3 bucks *said the same thing on my other blog*
KKkkk i am losing my mood now coz its almost 5am now *whoa am i really taking time into consideration now.. yes something's wrong with me!* i need to get the sleep that i lost and what not.. thanks for staying and reading this piece up until this moment. I really appreciate the time.. =) cyber kisses and hugs to you person! =p
oh did I say I AM OFF TOMORROW!!! omgggggg I AM OFFFFFFFFFFFFFFFFFFFFF i can scream that even in my dreamsssssssssssssssssssssssss!!!!
STFU me.. nytieeee
=) deah
----------------
All Contents Made by Deahgee. Powered by
Blogger
.

Welcome To My Blog!
Hey Its Me.. DEAH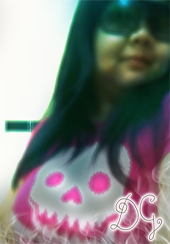 The name is
DEAH
. Pronounced as
De-Yah
not deh nor dih..
You might be able to see some swearing and bitching here and
there so that's a warning.. Not suitable for babies.. lol..

Enjoy and HATERS/SPAMMERS, STAY AWAY!!!!

\m/


Lemme Know U Exist

Visits!!! *Thanks*