Yes, I am married! I know i know, i didn't even update this blog regarding my wedding preps, details, etc etc.. I was just soo busy, excited, stressed, hassled, during those days that I can't even insert the thought of posting up an update here. Don't get me wrong, apart from all those negative things that I just mentioned, I am happy and those things made my big day such a memorable experience for me and my husband. I am married to my long time boyfriend and bestfriend MARLON!! I am Mrs. Grimaldo now! woot woot!! If you've been following this blog from before, well for sure you are already introduced to him.
I don't know how will I summarize everything that happened that day. I can't even express it in words how happy I am to be able to be united with my ultimate love in front of my family and especially in front of God. Every word that was told by the ministering priest during our wedding was filled with meaning that its still fresh in my memory. As if I was just married yesterday. I will always remember these words especially if that time comes when our relationship would have troubles and tests. I learned a lot from the process. If ever you will get married, I seriously suggest that you go through the whole process and attend the seminars. The Precana seminar was the best one though. You will learn a lot of things regarding married life here. It will help you realize the differences of you and your partner and how you will be able to cope up with it. I am thankful to the speakers who did our precana. They made that 5-hour seminar worth it.
The only thing that is not good right now is the fact that me and my husband are apart [again] =( I never thought it would be this hard. I spent 5 years together with him before we flew to Canada before but I was only able to spend 2 and a half months with him for our wedding but I am seriously not doing well. I feel like there is something missing in my life and for sure it was him. I hope and pray that soon, we'll be able to be together and never have the need to be apart again ever. Some people are saying that I became clingy after my wedding it was something I can't help. well, i know they won't ever understand it. I just hope people would have more understanding. I need to stop for I might cry again.. =(
So.. another new year to be thankful to God, another year of existence... another year of chances and experiences. I am excited to know what this year would offer me. I am excited to start my family if God would allow. Thanks for reading and hopefully I would make use of this space more to chronicle my life.
cheers to a new start!
=) DG
=) deah
----------------
All Contents Made by Deahgee. Powered by
Blogger
.

Welcome To My Blog!
Hey Its Me.. DEAH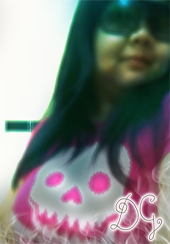 The name is
DEAH
. Pronounced as
De-Yah
not deh nor dih..
You might be able to see some swearing and bitching here and
there so that's a warning.. Not suitable for babies.. lol..

Enjoy and HATERS/SPAMMERS, STAY AWAY!!!!

\m/


Lemme Know U Exist

Visits!!! *Thanks*