I admit, today was one of those boring days. I didn't go to work because...
I ended up being all alone here at home. Due to my boredom, I was able to do some house chores.. oh better termed as, ROOM chores since I only vacuumed my room =p And since the weather was not that bad today, I decided to go get the much-needed sunlight from the outside world and raked our backyard. Finally, a tangible person/s showed up! My sis-in-law and grace came back from their job interview. Hoping for good results for them and for....
I didn't know that grace brought her creacut with her. We did some girly, salon-ish bonding, went on to cut my fringe and I can say that I am impressed on how easy it was to use that tool. After that we went on with doing our nails and grace did some cute nail art for me =)
pardon if its not that clean by the edges but I seriously love it! it was a combined design by the both of us though she actually did it. Oh and did I mention that after 20 years of not doing my toes, I finally decided to pamper them and give them a decent pedi *hurrah hurrah - screamed by my toes*
We also stopped by mcdees and satisfied our midnight cravings. I decided to try their coffee frappe and I liked it. It was a bit creamier compared to the iced capp from tims. Not bad at all, but I don't think my tummy liked it. You know why...
That would be it for me.. Today is my cousin's birthday by the way.. Love you always ate din! mwah!!
I am excited to see my lil erika and bff tomorrow! shopping day I guess! time to give my other blog a glimpse of how I do my shopping. Goodnight everyone and thanks for stopping by!
=) deah
----------------
All Contents Made by Deahgee. Powered by
Blogger
.

Welcome To My Blog!
Hey Its Me.. DEAH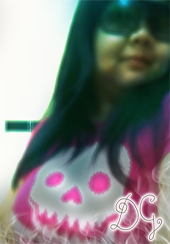 The name is
DEAH
. Pronounced as
De-Yah
not deh nor dih..
You might be able to see some swearing and bitching here and
there so that's a warning.. Not suitable for babies.. lol..

Enjoy and HATERS/SPAMMERS, STAY AWAY!!!!

\m/


Lemme Know U Exist

Visits!!! *Thanks*