Biography
And, my name is

DEAH

.
The name is
DEAH
. Pronounced as
De-Yah
not deh nor dih..
I'm
in love
with my doggie and my boyfriend whom i've been with for more than 8 years already. Major DOG lover but sometimes I am not sure if DOGS love me back.. I know my dog does so that's enough for me.
i &hearts Black, Purple, Pink and Khaki. Black tops all my favourite colours. Major Fanatic of Ariel and Joe, and of course.. Twilight Saga!! ROBSTEN is love. Fangirl-ing is one of my past time and take it from me, its not that easy as to what others may perceive it would be.
I never HATE, I only DISLIKE. So for HATERS who might be reading this, just go and leave.. else, just shut the fuck up! Respect for me is the GOLDEN TRAIT that all humans must understand so this world can be at PEACE. and yeah.. I do believe in FAIRIES ... xoxo
bold
underlined
strikethrough
italic
Sweet Desires
Did I hear someone said "cheese" or "chocolate"?
Iphone - ♥ it!
All my PINK babies ~Sony Vaio, DSlite~
Abercrombie and Fitch, Old Navy, and American Eagle!
Cinema: Watch
My Bestfriend's Wedding - just classic!
Part-Time Retail slave
, Full-Time Student but FULL FULL -Time FANGIRL
That
Handbag from Coach
Wishin for my gazillions wishes to come true
-->
All Contents Made by Deahgee. Powered by
Blogger
.

Welcome To My Blog!
Hey Its Me.. DEAH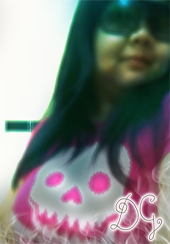 The name is
DEAH
. Pronounced as
De-Yah
not deh nor dih..
You might be able to see some swearing and bitching here and
there so that's a warning.. Not suitable for babies.. lol..

Enjoy and HATERS/SPAMMERS, STAY AWAY!!!!

\m/


Lemme Know U Exist

Visits!!! *Thanks*